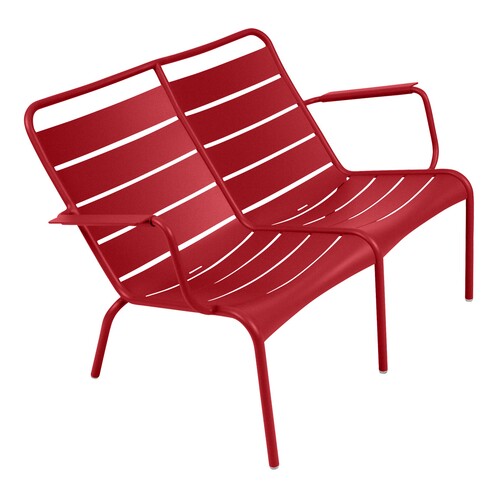 Luxembourg Low Armchair Duo
poppy red/smooth/WxHxD 119x72x86cm/UV-resistant/ stackable
6-8 weeks
Product description
The low armchair Duo from the Luxembourg collection was created by Frédéric Sofia - on special commission by Fermob.

Basis for the Luxembourg collection were the legendary Sénat chairs standing in the Parisian Jardin du Luxembourg, part of the park since 1923. In the year 2004 the Luxembourg collection received the Label Via design award.

The Luxembourg Low Armchair is made of lacquered aluminium, with the backrest, seat, and armrests made of bent anodised aluminium slats - materials that were treated with an extra high protection for outdoor use making the furniture UV-resistant, weatherproof, and robust! The low armchair by Fermob is available in many different colours, please see the "available product types" for details.

On request the Luxembourg Low Armchair is available in all of the bright colours from the Fermob metal cards. Don't miss out on all the other models of the Luxembourg collection, found under "collection". We have to thank the photographer Stéphane Rambaud for the beautiful atmospheric product images of the Luxembourg low armchair.
Product details
| | |
| --- | --- |
| Item ID | 158556 |
| Brand | Fermob |
| Designer | Frédéric Sofia |
| Collection | Fermob Luxembourg |
Colors
textured: cedar green, cactus, chili, clay grey, lemon sorbet, glacier mint | smooth: poppy red | lacquered: light brown nutmeg, light green verbena, acapulco blue, anthracite | textured with gloss: storm grey, willow green
Materials
aluminium
Dimensions
Width: 119cm
Height: 72cm
Depth:
· cedar green: 86cm
· poppy red: 86cm
· light brown nutmeg: 84cm
· light green verbena: 84cm
· storm grey: 86cm
· cactus: 86cm
· chili: 86cm
· acapulco blue: 84cm
· anthracite: 84cm
· willow green: 86cm
· clay grey: 86cm
· lemon sorbet: 86cm
· glacier mint: 86cm
Seat Height: 40.5cm
Armrest Height:
· cedar green: 61.5cm
· poppy red: 61.5cm
· light brown nutmeg: 0cm
· light green verbena: 0cm
· storm grey: 61.5cm
· cactus: 61.5cm
· chili: 61.5cm
· acapulco blue: 0cm
· anthracite: 0cm
· willow green: 61.5cm
· clay grey: 61.5cm
· lemon sorbet: 61.5cm
· glacier mint: 61.5cm

Weight
cedar green: 11kg
poppy red: 11kg
light brown nutmeg: 10kg
light green verbena: 10kg
storm grey: 11kg
cactus: 11kg
chili: 11kg
acapulco blue: 10kg
anthracite: 10kg
willow green: 11kg
clay grey: 11kg
lemon sorbet: 11kg
glacier mint: 11kg

9 designs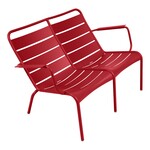 poppy red/smooth/WxHxD 119x72x86cm/UV-resistant/ stackable
6-8 weeks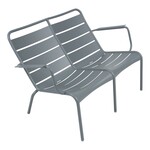 storm grey/textured with gloss/WxHxD 119x72x86cm/UV-resistant/ stackable
6-8 weeks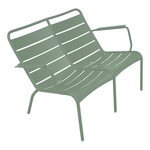 cactus/textured/WxHxD 119x72x86cm/UV-resistant/ stackable
6-8 weeks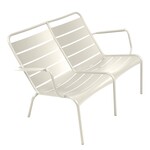 clay grey/textured/WxHxD 119x72x86cm/UV-resistant/ stackable
6-8 weeks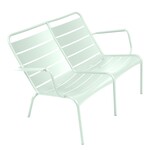 glacier mint/textured/WxHxD 119x72x86cm/UV-resistant/ stackable
6-8 weeks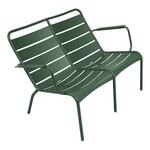 cedar green/textured/WxHxD 119x72x86cm/UV-resistant/ stackable
6-8 weeks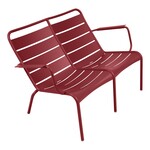 chili/textured/WxHxD 119x72x86cm/UV-resistant/ stackable
6-8 weeks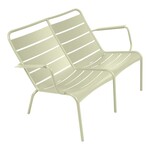 willow green/textured with gloss/WxHxD 119x72x86cm/UV-resistant/ stackable
6-8 weeks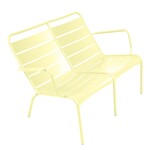 lemon sorbet/textured/WxHxD 119x72x86cm/UV-resistant/ stackable
6-8 weeks
Matching accessories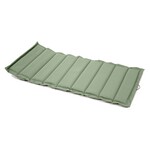 Luxembourg Low Armchair Cushion 96x47cm
almond green/polyester/LxW 96x47/UV-resistant
in Stock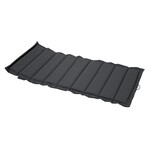 Luxembourg Low Armchair Cushion 96x47cm
night grey/polyester/LxW 96x47/UV-resistant
in Stock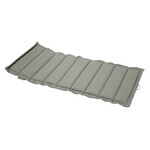 Luxembourg Low Armchair Cushion 96x47cm
beige/polyester/LxW 96x47/UV-resistant
1 in stock
The current status is available online at https://www.ambientedirect.com/en/158556
© 2021 Ambiente Direct GmbH - Stand vom 21.09.2021