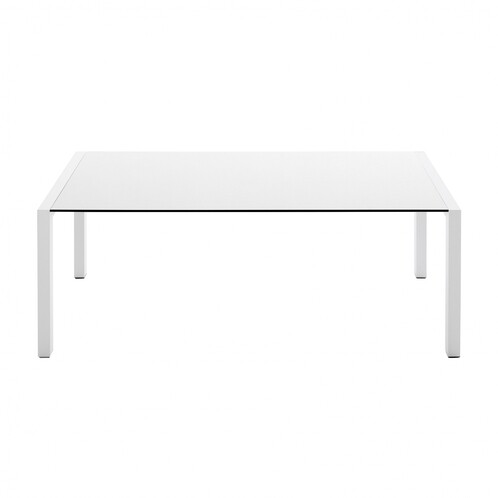 Sushi Pure White Table
white/laminate/LxWxH 150x90x75cm/white lacquered aluminum frame
6-8 weeks
Product description
The simple Sushi Pure White Table was created in the year 2002 by Bartoli Design for the Italian label Kristalia.

The design of the Sushi Pure White Table by Kristalia impresses with strictness and a sober beauty. The table top made of laminate with a thickness of only 1 cm is designed to be very slim, however the internally processed aluminium in a honeycomb-structure makes the material extremely robust.

The comparably voluminous, angular legs of the Sushi Pure White Table by Kristalia provide a clear distinction from the rest of the room. Sushi Pure White is highly functional as a modern kitchen table / dining table, but also as a desk or conference table in the office.

For the 75 cm high Kristalia Sushi Pure White Table you have the choice of different sizes for the table top - please see the "available product types" for details.

In the "collection" you will find all other available tables from the Sushi collection by Kristalia. We also carry the Sushi Pure White Table with a pull-out table top and as a durable garden table for outdoors!
Product details
| | |
| --- | --- |
| Item ID | 147952 |
| Brand | Kristalia |
| Designer | Bartoli Design |
| Collection | Kristalia Sushi |
Colors
white/laminate
Materials
aluminium, laminate
Dimensions
Length:
· LxWxH 177x90x75cm: 177cm
· LxWxH 220x100x75cm: 220cm
· LxWxH 150x90x75cm: 150cm
Width:
· LxWxH 177x90x75cm: 90cm
· LxWxH 220x100x75cm: 100cm
· LxWxH 150x90x75cm: 90cm
Height: 75cm

3 designs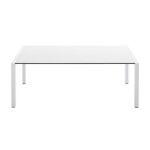 white/laminate/LxWxH 150x90x75cm/white lacquered aluminum frame
6-8 weeks

white/laminate/LxWxH 220x100x75cm/white lacquered aluminum frame
6-8 weeks

white/laminate/LxWxH 177x90x75cm/white lacquered aluminum frame
6-8 weeks
The current status is available online at https://www.ambientedirect.com/en/147952
© 2022 Ambiente Direct GmbH - Stand vom 25.01.2022