The Dots Hooks M
oak / matt / Ø 13cm
in Stock
Product description
The Norwegian design office Tveit & Tornøe created The Dots M Hooks for the manufacturer Muuto.

Let your imagination run free when arranging The Dots M Hooks: In an orderly row or playful and jumbled - the hooks will bring order to your hallway and can also be used as a wardrobe or coat rack. The rounded edges of The Dots M protect your clothes or jackets from tearing.

The Dots M Hooks are manufactured of solid oak wood and are available in many different colours. Please see the "available product types" for details.

Other stylish clothes hooks or coat racks for your hallway or the wardrobe can be found in the "similar products"!
Product details
| | |
| --- | --- |
| Item ID | 156038 |
| Brand | Muuto |
| Designer | Tveit & Tornøe |
| Collection | Muuto The Dots |
Colors
mustard, oak, black, white, grey, petroleum, dark grey, dusty green, ash, midnight blue, beige green, burgundy, pale blue, walnut, off-white, dark green, taupe (matt)
Materials
wood, oak
Dimensions
Diameter:
· mustard: 10.7cm
· oak: 13cm
· black: 10.7cm
· white: 10.7cm
· grey: 10.7cm
· petroleum: 10.7cm
· dark grey: 10.7cm
· dusty green: 10.7cm
· ash: 10.7cm
· midnight blue: 13cm
· beige green: 13cm
· burgundy: 13cm
· pale blue: 13cm
· walnut: 10.7cm
· off-white: 10.7cm
· dark green: 10.7cm
· taupe: 10.7cm

17 designs

oak / matt / Ø 13cm
in Stock

petroleum / matt / Ø 13cm
in Stock

black / matt / Ø 13cm
in Stock

white / matt / Ø 13cm
in Stock

grey / matt / Ø 13cm
5 in stock

mustard / matt / Ø 13cm
in Stock

ash / matt / Ø 13cm
in Stock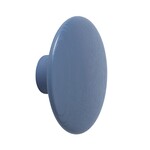 pale blue / matt / Ø 13cm / new color 2018
5 in stock

dusty green / matt / Ø 13cm
in Stock

midnight blue / matt / Ø 13cm
2 in stock

taupe / matt / Ø 13cm
6 in stock

dark grey / matt / Ø 13cm
5 in stock
burgundy / matt / Ø 13cm / new color 2018
8-12 weeks

dark green / matt / Ø 13cm
5 in stock

walnut / matt / Ø 13cm / new color 2018
8-12 weeks

discontinued item - beige green / matt / Ø 13cm / new color 2018
2 in stock

off-white / matt / Ø 13cm
8-12 weeks
The current status is available online at https://www.ambientedirect.com/en/156038
© 2021 Ambiente Direct GmbH - Stand vom 23.06.2021