Restore Basket
light grey / felt / 48x35x23cm
in Stock
Product description
The Restore basket was designed by Finnish designer Mika Tolvanen for the Danish manufacturer Muuto.
This basket is made of a polymer felt composed of recycled PET bottles, which inspired the designer to name this series of baskets Restore.
Its soft shape and the beautiful colours make the baskets attractive little helpers. Restore baskets are perfectly suitable for storing magazines or newspapers, but naturally also anything else, like toys or books. The sky is the limit!
So you can find exactly the Restore Basket that will suit your interior style, please see the different colour versions in the "available product types".
Product details
| | |
| --- | --- |
| Item ID | 156008 |
| Brand | Muuto |
| Designer | Mika Tolvanen |
| Collection | Muuto Restore |
Colors
light grey, dusty green, yellow, black, midnight blue, black melange, dark green, burnt orange, blue, grey, sand (felt)
Materials
polymer felt
Dimensions
Length: 48cm
Width: 35cm
Height: 23cm

10 designs

light grey / felt / 48x35x23cm
in Stock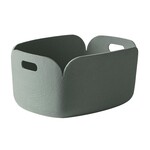 dusty green / felt / 48x35x23cm
in Stock

yellow / felt / 48x35x23cm
in Stock

midnight blue / felt / 48x35x23cm
in Stock

black melange / felt / 48x35x23cm
1 in stock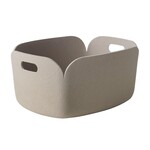 sand / felt / 48x35x23cm
4 weeks

black / felt / 48x35x23cm
6 in stock

burnt orange / felt / 48x35x23cm
6 in stock

blue, grey / felt / 48x35x23cm
4 in stock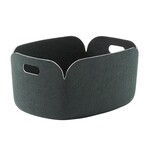 dark green / felt / 48x35x23cm
2 in stock
The current status is available online at https://www.ambientedirect.com/en/156008
© 2021 Ambiente Direct GmbH - Stand vom 19.06.2021