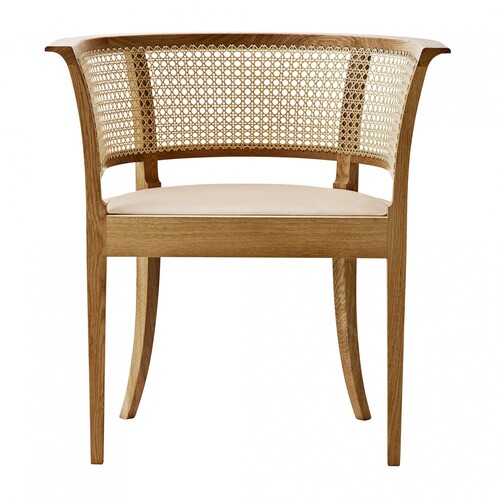 KK96620 Faaborg Chair
beige/leather Sif 90/CMHR foam/WxHxD 70x73x55cm/backrest Viennese network/frame oiled solid oak
5 weeks
Product description
The KK96620 Faaborg Chair has been created by Kaare Klint for the brand Carl Hansen. The Faaborg Chair first appeared in 1914 and still exudes refinement. Initially intended to offer a place for Faaborg museum goers to consider works of art, it remains the perfect place to relax, think, chat, and enjoy interior spaces. And it continues to be one of the finest creations in Danish design history.

The KK96620 Faaborg Chair marries form and function beautifully, with its arching back and unified design. The frame of the seat wraps around the sitter and curves gently outwards towards its rim. Mahogany and oak versions are available, and both showcase the richness of natural wood. Underneath, rear legs flute slightly while the front legs are straight, creating an intriguing collision of forms.

The KK96620 Faaborg Chair measures 70cm wide, 55cm deep and stands 73cm high. It has a seat height of 44cm which comes with a CMHR foam filled cushion. The back is filled with a delicate lattice of common reed, while leather has been used for the seat surface. The result is a chair in which little details merge together in a gorgeous unity. It's easy to see why Faaborg has become a timeless classic of furniture design.
Product details
| | |
| --- | --- |
| Item ID | 172553 |
| Brand | Carl Hansen |
| Designer | Kaare Klint |
Colors
beige/leather Sif 90/CMHR foam
Materials
oak, mahogany, common reed, leather, CMHR
Dimensions
Width: 70cm
Height: 73cm
Depth: 55cm
Seat Height: 44cm
Armrest Height: 73cm
Backrest Height: 73cm

2 designs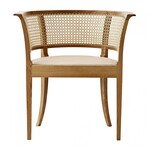 beige/leather Sif 90/CMHR foam/WxHxD 70x73x55cm/backrest Viennese network/frame oiled solid oak
5 weeks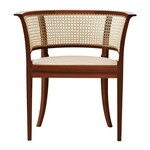 beige/leather Sif 90/CMHR foam/WxHxD 70x73x55cm/backrest Viennese network/frame lacquered solid mahogany
5 weeks
The current status is available online at https://www.ambientedirect.com/en/172553
© 2022 Ambiente Direct GmbH - Stand vom 22.01.2022