B 9 Side Table Set of 4 Beech
black/stained/4 tables B 9a, b, c, d/frame chromed tubular steel
5 weeks
Product description
The B 9 Side Table Set of 4 Beech was designed by Marcel Breuer for the brand Thonet.

Launched as a traditional carpentry business in 19th-century Germany, Thonet saw success when its manufacturing processes transitioned from traditional handcrafting to mass production on an industrial scale. Further success came with its pioneering of tubular steel furniture, a movement largely led by Marcel Breuer. Breuer claimed his fascination for tubular steel came from the sweep of bicycle handlebars.

Taking inspiration from the aesthetically simple but eye-catching Bauhaus style, Breuer designed the B 9 Side Table Set of 4 Beech in 1925. The set was one of the first times Breuer used tubular steel in his work. Each table features a continuously flowing chromed-steel tubular frame. This is topped by a stained beech wood. When not in use as coffee or side tables or for displaying flowers and ornaments, the four tables stack neatly into one, creating an attractive single design element in the living room. The tables in the B 9 Side Table Set of 4 Beech range in width from 45cm to 66cm and in height from 45cm to 60cm. Each table has a depth of 39cm.
Product details
| | |
| --- | --- |
| Item ID | 165151 |
| Brand | Thonet |
| Designer | Marcel Breuer |
| Collection | Thonet B 9 |
| | |
| --- | --- |
| Colors | black/stained |
| Materials | steel, MDF board beech |
| Dimensions | Width: 39cm |
| Weight | 20kg |
1 designs

black/stained/4 tables B 9a, b, c, d/frame chromed tubular steel
5 weeks
Matching accessories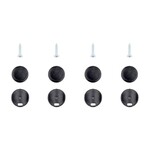 Plastic Glider for B 9/ B 97 Set of 4
black/for stone floors
5 weeks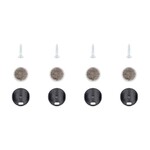 Felt Glider for B 9/ B 97 Set of 4
black/for parquet floor
5 weeks
The current status is available online at https://www.ambientedirect.com/en/165151
© 2022 Ambiente Direct GmbH - Stand vom 22.01.2022