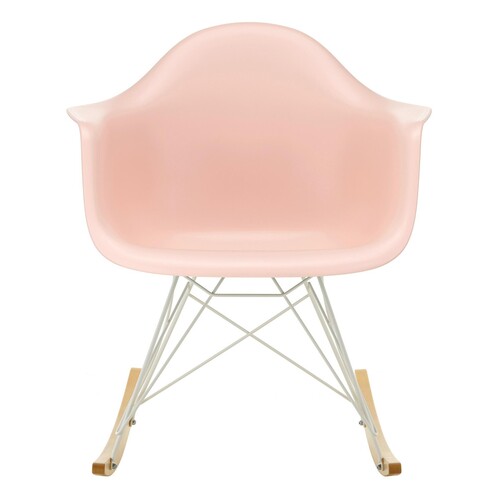 Eames Plastic Armchair RAR Rocking Chair White Base
pale rose/seat shell polypropylene/white powder-coated base/ golden maple/WxHxD 63x76x81cm
5 weeks
Product description
The Eames Plastic Armchair RAR Rocking Chair White Base was designed by Charles and Ray Eames for the brand Vitra.

Although this American couple worked across various media, including graphic and industrial design, film and fine art, it was their Lounge Chair which became their signature  product. The early chairs were first constructed out of moulded plywood, but their partnership with the Swiss manufacturer Vitra and the advent of new synthetic materials helped the couple create one of the most recognisable pieces of 20th century furniture. The chair took various forms, but was born out of a desire to create maximum comfort and flexibility using emerging technologies.

This Eames Plastic Armchair RAR Rocking Chair White Base is a modern take on the more unusual design produced for a competition at the Museum of Modern Art in New York. It includes the classic Eames features of ergonomically shaped moulded seats on top of minimalist wire struts on the homely wooden rocking chair base. The seats are made of polypropylene, which the makers say adds even more comfort than the original version. It is also stunning, creating a wow factor in any home.
Product details
| | |
| --- | --- |
| Item ID | 149151 |
| Brand | Vitra |
| Designer | Ray Eames, Charles Eames |
| Collection | Vitra Eames Plastic Chair |
Colors
poppy red, white, pebble, deep black, icegrey, light grey, sunlight, mustard yellow, pale rose, green, rusty orange, forest, granite grey, sea blue (seat shell polypropylene)
Materials
polypropelene, steel, solid maple
Dimensions
Width: 63cm
Height: 76cm
Depth: 81cm
Seat Height: 37cm

14 designs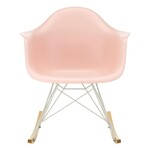 pale rose/seat shell polypropylene/white powder-coated base/ golden maple/WxHxD 63x76x81cm
5 weeks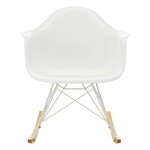 white/seat shell polypropylene/white powder-coated base/ golden maple/WxHxD 63x76x81cm
5 weeks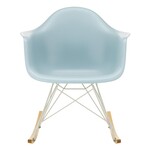 icegrey/seat shell polypropylene/white powder-coated base/ golden maple/WxHxD 63x76x81cm
5 weeks

pebble/seat shell polypropylene/white powder-coated base/ golden maple/WxHxD 63x76x81cm
5 weeks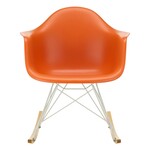 rusty orange/seat shell polypropylene/white powder-coated base/ golden maple/WxHxD 63x76x81cm
1 in stock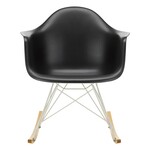 deep black/seat shell polypropylene/white powder-coated base/ golden maple/WxHxD 63x76x81cm
5 weeks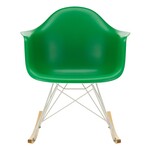 green/seat shell polypropylene/white powder-coated base/ golden maple/WxHxD 63x76x81cm
5 weeks

granite grey/seat shell polypropylene/white powder-coated base/ golden maple/WxHxD 63x76x81cm
5 weeks

sea blue/seat shell polypropylene/white powder-coated base/ golden maple/WxHxD 63x76x81cm
5 weeks

poppy red/seat shell polypropylene/white powder-coated base/ golden maple/WxHxD 63x76x81cm
5 weeks

light grey/seat shell polypropylene/white powder-coated base/ golden maple/WxHxD 63x76x81cm
5 weeks
sunlight/seat shell polypropylene/white powder-coated base/ golden maple/WxHxD 63x76x81cm
5 weeks

mustard yellow/seat shell polypropylene/white powder-coated base/ golden maple/WxHxD 63x76x81cm
5 weeks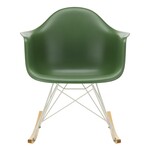 forest/seat shell polypropylene/white powder-coated base/ golden maple/WxHxD 63x76x81cm
5 weeks
Matching accessories

Eames Plastic Armchair Seat Mat
anthracite/felt in 5mm thickness/LxWxH 37x35x0.5cm/anti-slip
5 weeks

Eames Plastic Armchair Seat Mat
grey mix/felt in 5mm thickness/LxWxH 37x35x0.5cm/anti-slip
in Stock

Eames Plastic Armchair Seat Mat
red/felt in 5mm thickness/LxWxH 37x35x0.5cm/anti-slip
in Stock

Eames Plastic Armchair Seat Mat
graphit/felt in 5mm thickness/LxWxH 37x35x0.5cm/anti-slip
in Stock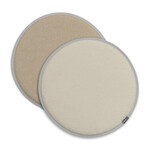 Vitra Seat Dots Seat Cushion Ø38cm
parchment-cream white/tobacco-cream white/Ø 38cm/reversible cushion 2 colors
in Stock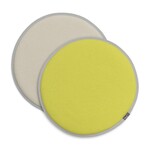 Vitra Seat Dots Seat Cushion Ø38cm
yellow-pastel green/parchment-cream white/Ø 38cm/reversible cushion 2 colors
in Stock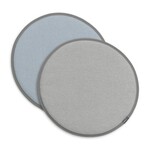 Vitra Seat Dots Seat Cushion Ø38cm
creme white- sierra grey/light grey-ice blue/Ø 38cm/reversible cushion 2 colors
in Stock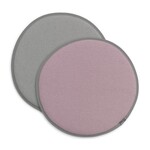 Vitra Seat Dots Seat Cushion Ø38cm
rose-sierra grey/light grey-sierra grey/Ø 38cm/reversible cushion 2 colors
5 in stock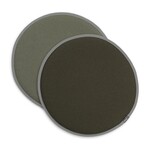 Vitra Seat Dots Seat Cushion Ø38cm
coconut-forest/forest-sierra grey/Ø 38cm/reversible cushion 2 colors
5 in stock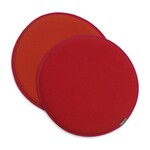 Vitra Seat Dots Seat Cushion Ø38cm
red-poppy red/orange/Ø 38cm/reversible cushion 2 colors
in Stock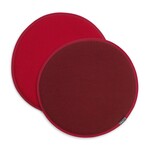 Vitra Seat Dots Seat Cushion Ø38cm
red-coconut/poppy red/Ø 38cm/reversible cushion 2 colors
in Stock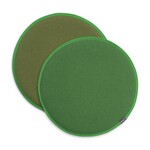 Vitra Seat Dots Seat Cushion Ø38cm
classic green-forest/classic green-cognac/Ø 38cm/reversible cushion 2 colors
6 in stock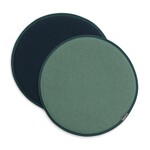 Vitra Seat Dots Seat Cushion Ø38cm
mint-forest/petrol-black/Ø 38cm/reversible cushion 2 colors
in Stock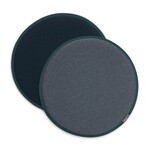 Vitra Seat Dots Seat Cushion Ø38cm
black-ice blue/petrol-black/Ø 38cm/reversible cushion 2 colors
3 in stock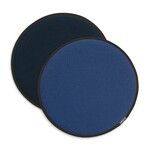 Vitra Seat Dots Seat Cushion Ø38cm
blue-coconut/black-ice blue/Ø 38cm/reversible cushion 2 colors
in Stock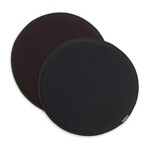 Vitra Seat Dots Seat Cushion Ø38cm
dark grey-black/chestnut-black/Ø 38cm/reversible cushion 2 colors
in Stock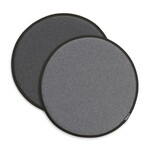 Vitra Seat Dots Seat Cushion Ø38cm
black-cream white/sierra grey-black/Ø 38cm/reversible cushion 2 colors
in Stock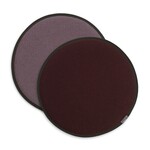 Vitra Seat Dots Seat Cushion Ø38cm
dark red-black/dark red-ice blue/Ø 38cm/reversible cushion 2 colors
in Stock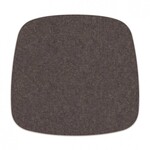 Eames Plastic Armchair Seat Mat
pepper/felt in 5mm thickness/LxWxH 37x35x0.5cm/anti-slip
1 in stock

Eames Plastic Armchair Seat Mat
deep water/felt in 5mm thickness/LxWxH 37x35x0.5cm/anti-slip
2 in stock

Eames Plastic Armchair Seat Mat
black/felt in 5mm thickness/LxWxH 37x35x0.5cm/anti-slip
in Stock
Eames Plastic Armchair Seat Mat
pistachio/felt in 5mm thickness/LxWxH 37x35x0.5cm/anti-slip
5 weeks
The current status is available online at https://www.ambientedirect.com/en/149151
© 2021 Ambiente Direct GmbH - Stand vom 18.10.2021