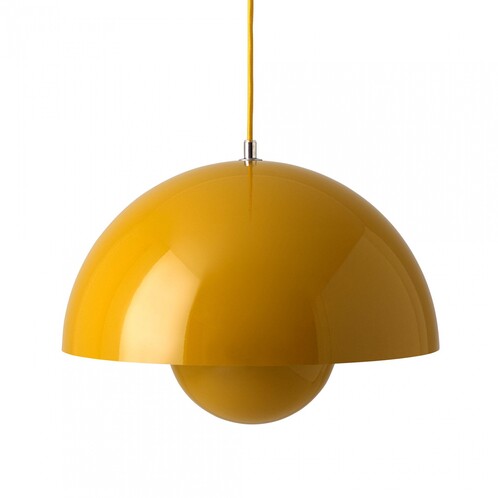 Flowerpot VP7 Suspension Lamp
mustard NCS S 3060-Y10R/H 27cm/Ø 37cm/cable mustard 300cm
in Stock
Product description
The Flowerpot VP7 Suspension Lamp was designed by Verner Panton for the brand &Tradition.

A product of the 1960s counterculture, Danish designer Panton's Flowerpot lamps captured the freewheeling spirit of the decade, offering a beautiful and lighthearted way to illuminate home and office interiors. The name itself is a humorous nod to the flower power philosophy of the era, but the design hasn't dated since its debut.

Reintroduced by Danish brand &Tradition, the Flowerpot VP7 Suspension Lamp still succeeds in crafting chilled out, relaxed environments which function as social spaces. Thus, this luminaire is equally perfect for dining rooms and lounges, as well as busy urban cafes. The Flowerpot VP7 Suspension Lamp comprises two parts; a large upturned bowl which shields a spherical diffuser. The unit as a whole measures 37 x 27 cm and is suspended via a 300cm cable which can be adapted to suit different spaces. Thanks to the metals used in its construction, the sections of the Flowerpot VP7 Suspension Lamp offer different tones of whichever colour is selected. The lamp sheds a gentle but insistent light via an E27 bulb, which can be easily changed as needed.
Product details
| | |
| --- | --- |
| Item ID | 153570 |
| Brand | &Tradition |
| Designer | Verner Panton |
| Collection | &Tradition Flower Pot |
Colors
light blue NCS S 3020- R90B, white RAL 9010, light grey PT 3U, black RAL 9017, mustard NCS S 3060-Y10R, beige red RAL 3012, red brown RAL 8012, dark green NCS S 8010-B70G, grey beige NCS S 4005-Y20R, stone blue NCS S 6005-B80G
Materials
steel
Dimensions
Height: 27cm
Diameter: 37cm
Cable Length: 300cm
Diameter Diffuser: 37cm

Weight
2.4kg

Illuminant
1x LED-Bulb E27/14W - energy efficency grade A++ - excl., (please order under "accessories")

Energy class
This luminaire is compatible with bulbs of the energy classes: A++ - E

11 designs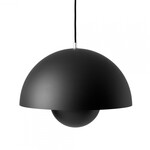 black RAL 9017/H 27cm/Ø 37cm/cable black 300cm
4 in stock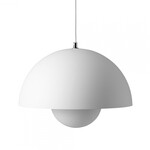 white RAL 9010/H 27cm/Ø 37cm/cable white 300cm
in Stock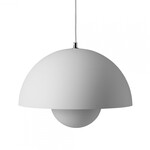 light grey PT 3U/H 27cm/Ø 37cm/cable light grey 300cm
3 weeks

beige red RAL 3012/H 27cm/Ø 37cm/cable beige red 300cm
in Stock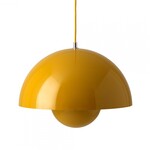 mustard NCS S 3060-Y10R/H 27cm/Ø 37cm/cable mustard 300cm
in Stock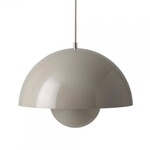 grey beige NCS S 4005-Y20R/H 27cm/Ø 37cm/grey beige cable 300cm
in Stock

white RAL 9010/H 27cm/Ø 37cm/cable white 300cm
in Stock

red brown RAL 8012/H 27cm/Ø 37cm/cable red brown 300cm
3 in stock

dark green NCS S 8010-B70G/H 27cm/Ø 37cm/cable dark green 300cm
in Stock

light blue NCS S 3020- R90B/H 27cm/Ø 37cm/cable light blue 300cm
6 in stock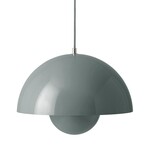 stone blue NCS S 6005-B80G/H 27cm/Ø 37cm/cable stone blue 300cm
4 in stock
Matching accessories

LED E27 BULB 300° FILAMENT 11W => 100W
transparent/2700K/1420lm/not dimmable
in Stock

LED E27 BULB 200° OPAL 13W => 100W
opal/2700K/1521lm/dimmable
in Stock

LED E27 BULB 200° OPAL 14W => 100W
transparent/2700K/1521lm
in Stock
The current status is available online at https://www.ambientedirect.com/en/153570
© 2021 Ambiente Direct GmbH - Stand vom 21.10.2021