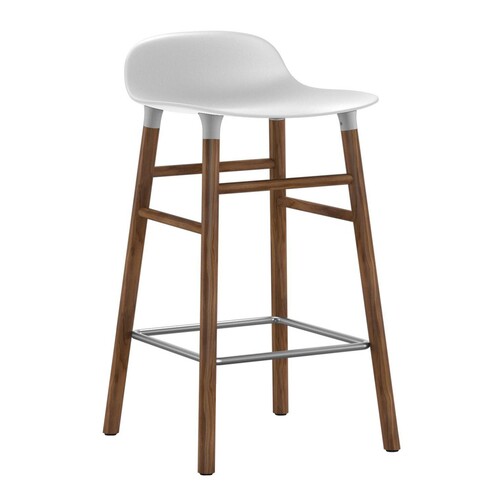 Form Bar Stool Walnut Base 65cm
white/seat shell polypropylene/walnut base/WxHxD 43x77x42.5cm
4 in stock
Product description
The Form Bar Stool Walnut Base 65cm has been created by Simon Legald for the brand Normann Copenhagen. Form is a collection of minimalist furnishings which showcase Legald's love of craftsmanship and his ability to mix beautiful forms and practical functions.

This version of the Form Stool has an attractive base made from natural walnut wood. The legs of the base are slightly angled to provide stability, while a pair of horizontal struts make the design stronger than its slimine form would suggest. Above the frame, the Form Bar Stool Walnut Base 65cm features a curved seat made from polypropylene wood. The seat is slightly concave, creating a bowl-like shape to enclose sitters. And it connects to the base via a clever series of joints, creating a seamless flow that avoids any jarring elements.

The Form Bar Stool Walnut Base 65cm stands 77cm high, while the seat is 65cm above the ground and measures 43cm wide by 42.5cm deep. The intelligent choice of materials keeps the weight low at 3.4kg, ensuring it's mobility. Various seat colours are available, making it easy to pick a Form Stool which slots into any interior design.
Product details
| | |
| --- | --- |
| Item ID | 151488 |
| Brand | Normann Copenhagen |
| Designer | Simon Legald |
| Collection | Normann Copenhagen Form |
Colors
white, grey, black, blue, green, red (seat shell polypropylene)
Materials
polypropylene , walnut
Dimensions
Width: 43cm
Height: 77cm
Depth: 42.5cm
Seat Height: 65cm

Weight
3.4kg

6 designs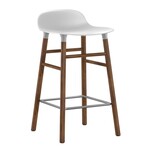 white/seat shell polypropylene/walnut base/WxHxD 43x77x42.5cm
4 in stock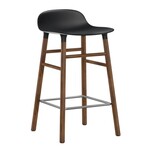 black/seat shell polypropylene/walnut base/WxHxD 43x77x42.5cm
4 in stock

green/seat shell polypropylene/walnut base/WxHxD 43x77x42.5cm
6-8 weeks

grey/seat shell polypropylene/walnut base/WxHxD 43x77x42.5cm
6-8 weeks

blue/seat shell polypropylene/walnut base/WxHxD 43x77x42.5cm
6-8 weeks

red/seat shell polypropylene/walnut base/WxHxD 43x77x42.5cm
6-8 weeks
The current status is available online at https://www.ambientedirect.com/en/151488
© 2022 Ambiente Direct GmbH - Stand vom 26.01.2022