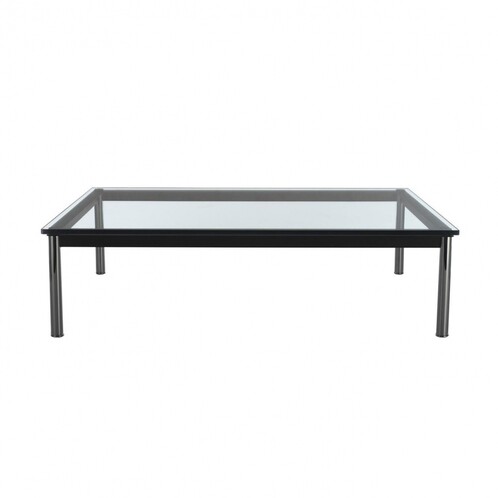 Le Corbusier LC10-P Side Table
frame black matt/crystal/LxWxH 120x80x30cm/table legs steel chromed
8-12 weeks
Product description
The Le Corbusier LC10-P Side Table has been created by Le Corbusier for the brand Cassina. Le Corbusier was one of the most famous architects of the 20th century, and was also responsible for some stunning interior furnishings. The LC10-P Side Table first appeared in 1929 as part of an exhibition of modern living. Many years later, it still feels contemporary and modern, offering a dynamic element for living spaces.

The Le Corbusier LC10-P Side Table combines chromed steel and crystal in beautiful harmony. Le Corbusier has made a rectangular crystal tabletop the centrepiece of the design, which in this model measures 120cm long and 80cm wide. This transparent surface is supported by a four-legged chrome steel base with discrete side panels to add extra support. Two heights of LC10-P are available, including models that are either 70cm or 30cm high.

The cross pieces of the Le Corbusier LC10-P Side Table come in a couple of tones, including black or blue matt. This sets up an engaging interplay of exposed metal, jewel-like crystal and rich colours, within a composition that features clear lines and pure simplicity. Timeless and forward-thinking at the same time, LC10-P is a design that will always make a strong impression wherever it is used.
Product details
| | |
| --- | --- |
| Item ID | 167212 |
| Brand | Cassina |
| Designer | Le Corbusier |
| Collection | Cassina LC Le Corbusier |
Colors
frame black matt, frame light blue (crystal)
Materials
chromed steel, crystal
Dimensions
Length: 120cm
Width: 80cm
Height:
· LxWxH 120x80x70cm: 70cm
· LxWxH 120x80x30cm: 30cm

3 designs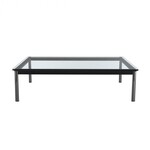 frame black matt/crystal/LxWxH 120x80x30cm/table legs steel chromed
8-12 weeks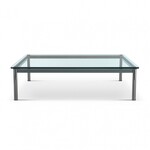 frame light blue/crystal/LxWxH 120x80x30cm/table legs steel chromed
8-12 weeks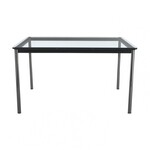 frame black matt/crystal/LxWxH 120x80x70cm/table legs steel chromed
8-12 weeks
The current status is available online at https://www.ambientedirect.com/en/167212
© 2022 Ambiente Direct GmbH - Stand vom 22.01.2022