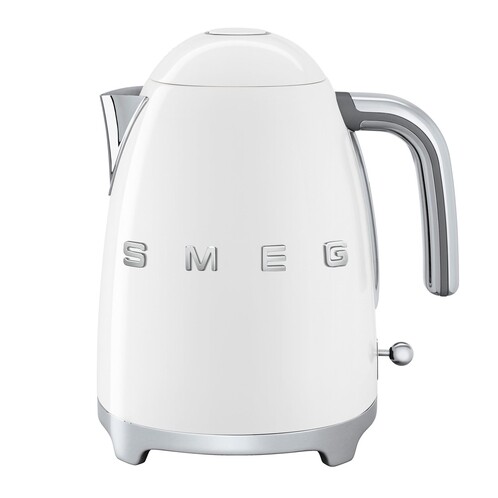 KLF03 Kettle 1,7L
white / lacquered / WxHxD 22.3x24.8x17.1cm / integrated heating element / Soft-Opening
in Stock
Product description
This SMEG KLF03 Kettle 1.7l was created for the manufacturer Smeg.

Italian based Smeg is known for collaborating with top designers to creates household appliances that showcase the '50s retro look. The KLF03 Kettle is a classic example of the fusion of mid-century style and modern features. The latter include the auto-shut off when water reaches its boiling point and the removable washable stainless steel limescale remover. Interesting design combining the old and new has always been a key aspect of the Italian brand's creativity and innovation, enabling it to meet ever-growing global expectations.

This kettle measures 22.3cm in width, 24.8cm in height and has a depth of 17.1cm. The ample capacity of 1.7l is just right to hold enough water for the entire family. Made from stainless steel, the kettle is built to last and withstand plenty of use. It comes in a variety of colours, including pastel green, black, pink and white, to match other appliances in the kitchen. The SMEG KLF03 Kettle 1.7l goes well with the SMEG SJF01 Slow Juicer.


Product details
| | |
| --- | --- |
| Item ID | 020178 |
| Brand | Smeg |
| Collection | Smeg 50's Style |
Colors
pastel green, black, creme, red, pastel blue, cadillac pink, white, anthracite (lacquered)
Materials
stainless steel
Dimensions
Width: 22.3cm
Height: 24.8cm
Depth: 17.1cm
Capacity: 1.7l

8 designs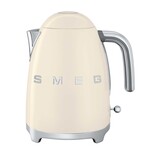 creme / lacquered / WxHxD 22.3x24.8x17.1cm / integrated heating element / Soft-Opening
8-12 weeks
black / lacquered / WxHxD 22.3x24.8x17.1cm / integrated heating element / Soft-Opening
8-12 weeks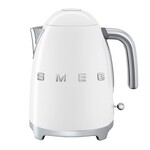 white / lacquered / WxHxD 22.3x24.8x17.1cm / integrated heating element / Soft-Opening
in Stock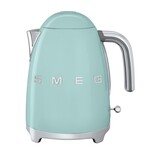 pastel green / lacquered / WxHxD 22.3x24.8x17.1cm / integrated heating element / Soft-Opening
in Stock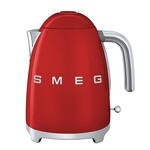 red / lacquered / WxHxD 22.3x24.8x17.1cm / integrated heating element / Soft-Opening
in Stock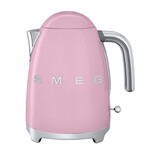 cadillac pink / lacquered / WxHxD 22.3x24.8x17.1cm / integrated heating element / Soft-Opening
4 in stock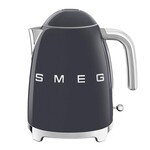 anthracite / lacquered / WxHxD 22.3x24.8x17.1cm / integrated heating element / Soft-Opening
5 in stock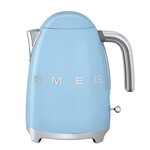 pastel blue / lacquered / WxHxD 22.3x24.8x17.1cm / integrated heating element / Soft-Opening
Available from 14.01.2022
The current status is available online at https://www.ambientedirect.com/en/020178
© 2021 Ambiente Direct GmbH - Stand vom 19.06.2021