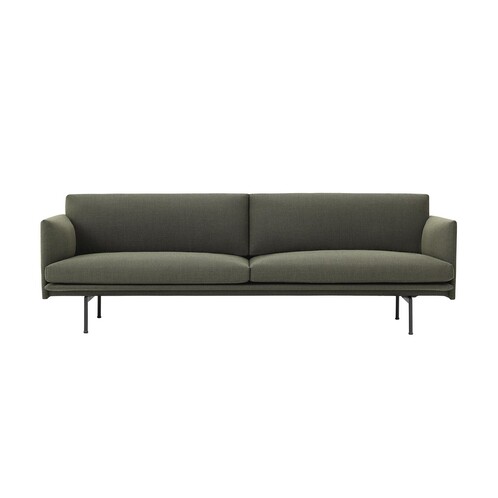 Outline Sofa 3 Seater
dark green / fabric Kvadrat Fiord 961 / WxHxD 220x69.5x84cm / black aluminium base: powder coated
8-12 weeks
Product description
The Outline Sofa 3 Seater was created by Anderssen & Voll for the brand Muuto.

Muuto upholds the Scandinavian design tradition of timeless aesthetics, functionality, and workmanship. Its name means 'new perspective' in Finnish and the brand works with contemporary designers who are bold and creative thinkers. Norwegian design duo Anderssen & Voll have received various international awards in recognition of their work with furniture and home accessories.

Fashioned from high grade leather, quality aluminium, and wood, the Outline Sofa 3 Seater is an elegantly designed couch that easily seats three people. It looks equally at home in the living room, family den or an office. The slender legs give the design a light yet robust outline whilst the expansive seat, arm, and backrest offer deep comfort. Fitted with cold foam granulate and feather, the seat cushion is suitable for allergy sufferers and is not prone to mite infestation. In addition to the refined Camo Leather version, the Outline Sofa 3 Seater comes in Kvadrat or Steelcut Trio fabrics known for their outstanding depth of colour. The Outline Sofa 3 Seater measures 220 x 84 x 71 cm. Its seat height is 40cm.
Product details
| | |
| --- | --- |
| Item ID | 156143 |
| Brand | Muuto |
| Designer | Anderssen & Voll |
| Collection | Muuto Outline |
Colors
leather Cognac: cognac | fabric Steelcut Trio 133: grey | fabric Kvadrat Fiord 961: dark green | leather black: black | fabric Kvadrat Fiord 551: rose | fabric Kvadrat Remix 163: anthracite | fabric Vancouver 14: light grey | fabric Kvadrat Fiord 151: grey
Materials
leather, aluminium
Dimensions
Length:
· cognac: 220cm
· grey: 0cm
· dark green: 0cm
· black: 220cm
· rose: 0cm
· anthracite: 0cm
· light grey: 0cm
Width:
· cognac: 84cm
· grey: 220cm
· dark green: 220cm
· black: 84cm
· rose: 220cm
· anthracite: 220cm
· light grey: 220cm
Height: 69.5cm
Depth:
· cognac: 0cm
· grey: 84cm
· dark green: 84cm
· black: 0cm
· rose: 84cm
· anthracite: 84cm
· light grey: 84cm
Seat Height: 40cm

8 designs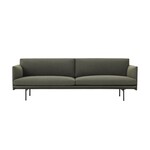 dark green / fabric Kvadrat Fiord 961 / WxHxD 220x69.5x84cm / black aluminium base: powder coated
8-12 weeks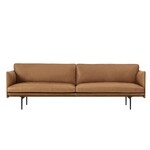 cognac / leather Cognac / WxHxD 220x69.5x84cm / black aluminium base: powder coated
8-12 weeks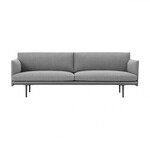 grey / fabric Kvadrat Fiord 151 / WxHxD 220x69.5x84cm / black aluminium base: powder coated
1 in stock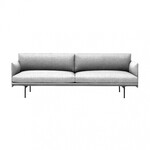 light grey / fabric Vancouver 14 / WxHxD 220x69.5x84cm / black aluminium base: powder coated
2 in stock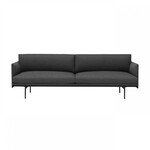 anthracite / fabric Kvadrat Remix 163 / WxHxD 220x69.5x84cm / black aluminium base: powder coated
8-12 weeks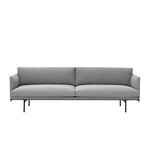 grey / fabric Steelcut Trio 133 / WxHxD 220x69.5x84cm / black aluminium base: powder coated
8-12 weeks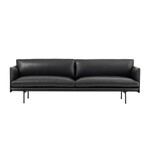 black / leather black / WxHxD 220x69.5x84cm / black aluminium base: powder coated
8-12 weeks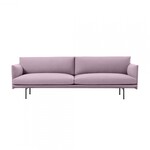 rose / fabric Kvadrat Fiord 551 / WxHxD 220x69.5x84cm / black aluminium base: powder coated
8-12 weeks
The current status is available online at https://www.ambientedirect.com/en/156143
© 2021 Ambiente Direct GmbH - Stand vom 23.06.2021