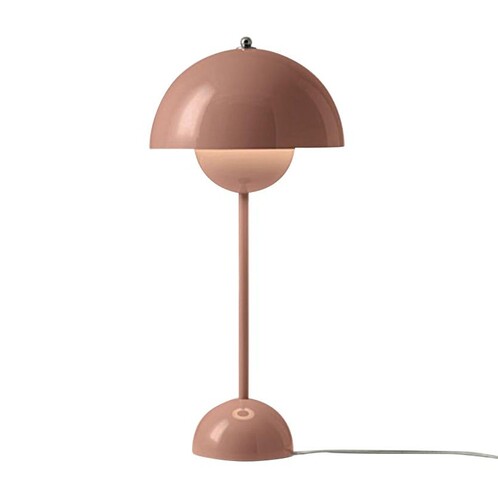 Flower Pot VP3 Table Lamp
beige red RAL 3012/H 50cm/Ø 23cm/cable PVC transparent 200cm with switch
in Stock
Product description
The Flower Pot VP3 Table Lamp was designed by Verner Panton for the manufacturer &Tradition, a company based in Copenhagen which continues to develop new concepts in Nordic interior décor.

Arguably the greatest name in mid-20th century Danish design, Verner Panton (1926-1998) was at the height of his influence during the 1960s, when he scandalised audiences with avant-garde pieces that displayed revolutionary techniques and psychedelic colours. Exuberantly futuristic, many of his designs have impacted popular culture through their use in movies and fashion.

Originally introduced in 1969, the Flower Pot VP3 Table Lamp from &Tradition reflects the space age themes of the decade in which man first walked on the moon. There is something endearingly robotic about its glossy finish and its smooth, simplified shape, made up of a series of lacquered metal hemispheres. Meanwhile, certain details, such as the transparent power cable and the brass ring at which the stem joins the base, add subtle grace notes to the overall design. Standing 50cm in height and 23cm in diameter, the Flower Pot VP3 Table Lamp has lost none of its charm and novelty in the five decades since it was created.
Product details
| | |
| --- | --- |
| Item ID | 153491 |
| Brand | &Tradition |
| Designer | Verner Panton |
| Collection | &Tradition Flower Pot |
Colors
dark green NCS S 8010-B70G, white RAL 9010, beige red RAL 3012, grey beige NCS S 4005-Y20R, light grey PT 3U, black RAL 9017, mustard NCS S 3060-Y10R, white RAL 9003, red brown RAL 8012, light blue NCS S 3020- R90B, brass, stainless steel, stone blue NCS S 6005-B80G
Materials
steel, stainless steel, brass, PVC
Dimensions
Height: 50cm
Diameter: 23cm
Cable Length: 200cm
Diameter Diffuser: 23cm

Weight
4.5kg

Illuminant
1x LED-Bulb E27/5W - energy efficency grade A++ - excl., (please order under "accessories")

Energy class
This luminaire is compatible with bulbs of the energy classes: A++ - E

13 designs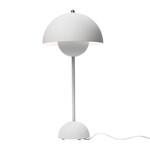 light grey PT 3U/H 50cm/Ø 23cm/cable PVC transparent 200cm with switch
in Stock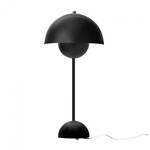 black RAL 9017/H 50cm/Ø 23cm/cable PVC transparent 200cm with switch
in Stock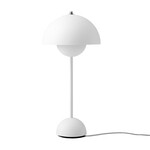 white RAL 9003/H 50cm/Ø 23cm/cable PVC transparent 200cm with switch
in Stock

white RAL 9010/H 50cm/Ø 23cm/cable PVC transparent 200cm with switch
in Stock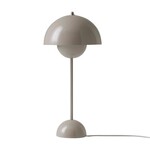 grey beige NCS S 4005-Y20R/H 50cm/Ø 23cm/cable PVC transparent 200cm with switch
in Stock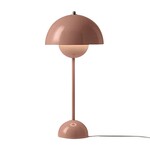 beige red RAL 3012/H 50cm/Ø 23cm/cable PVC transparent 200cm with switch
in Stock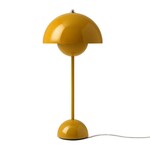 mustard NCS S 3060-Y10R/H 50cm/Ø 23cm/cable PVC transparent 200cm with switch
in Stock

dark green NCS S 8010-B70G/H 50cm/Ø 23cm/cable PVC transparent 200cm with switch
in Stock

light blue NCS S 3020- R90B/H 50cm/Ø 23cm/cable PVC transparent 200cm with switch
3 weeks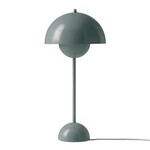 stone blue NCS S 6005-B80G/H 50cm/Ø 23cm/cable PVC transparent 200cm with switch
3 weeks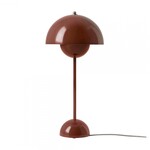 red brown RAL 8012/H 50cm/Ø 23cm/cable PVC transparent 200cm with switch
in Stock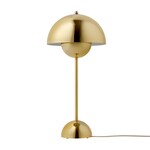 brass/H 50cm/Ø 23cm/cable PVC transparent 200cm with switch
3 weeks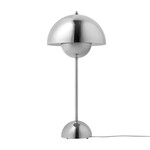 stainless steel/H 50cm/Ø 23cm/cable PVC transparent 200cm with switch
5 in stock
Matching accessories

LED E27 BULB OPAL 5W => 40W
opal/2800K/470lm/dimmable
6-8 weeks

LED E27 BULB 300° FILAMENT 4W => 40W
opal/4000K/470lm
6-8 weeks
The current status is available online at https://www.ambientedirect.com/en/153491
© 2021 Ambiente Direct GmbH - Stand vom 26.10.2021