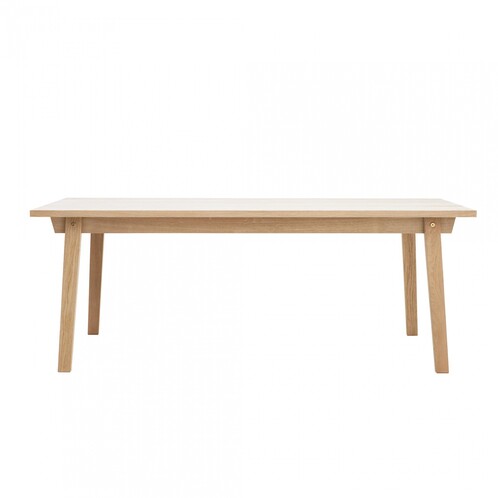 Slice Wood Dining Table
oak/LxW 200x90cm
6-8 weeks
Product description
The Slice Wood Dining Table was created by Hans Hornemann for the Danish design label Normann.

Since the late 1990s, Normann has been producing extraordinary pieces of home design that are destined to become furniture classics of the future. Danish-born Hans Hornemann studied industrial design engineering. His design work combines aesthetic simplicity with high functionality and the use of beautiful natural materials.

Hornemann's love of simplicity and natural materials is perfectly reflected in his Slice Wood Dining Table. It is a bold design with clean shapes and lines that elegantly puts the dining table at the heart of the home. The table legs are crafted from untreated oak and the table top is made from three long wide planks of lacquered oak veneer. These materials develop their own colouring and personality with the passage of time, while the gaps between the planks give Scandinavian character to the table. Natural oak creates an ambience of rustic domestic comfort but the table's sleek lines also make it perfect for office or conference room use. The Slice Wood Dining Table is 90cm wide, 74cm high and is available in three lengths: 200cm, 250cm and 300cm.
Product details
| | |
| --- | --- |
| Item ID | 151314 |
| Brand | Normann Copenhagen |
| Designer | Hans Hornemann |
| Collection | Normann Copenhagen Slice |
Colors
oak
Materials
oak wood
Dimensions
Length:
· LxW 200x90cm: 200cm
· LxW 250x90cm: 250cm
· LxW 300x90cm: 300cm
· LxW 160x84cm: 160cm
Width:
· LxW 200x90cm: 90cm
· LxW 250x90cm: 90cm
· LxW 300x90cm: 90cm
· LxW 160x84cm: 84cm
Height: 74cm

Weight
LxW 200x90cm: 41.5kg
LxW 250x90cm: 65kg
LxW 300x90cm: 80kg
LxW 160x84cm: 41.5kg

4 designs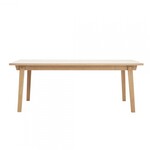 oak/LxW 200x90cm
6-8 weeks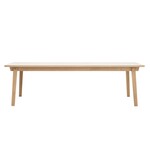 oak/LxW 250x90cm
6-8 weeks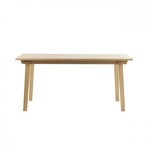 oak/LxW 160x84cm
6-8 weeks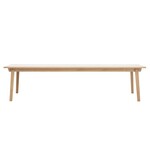 oak/LxW 300x90cm
6-8 weeks
The current status is available online at https://www.ambientedirect.com/en/151314
© 2021 Ambiente Direct GmbH - Stand vom 21.09.2021