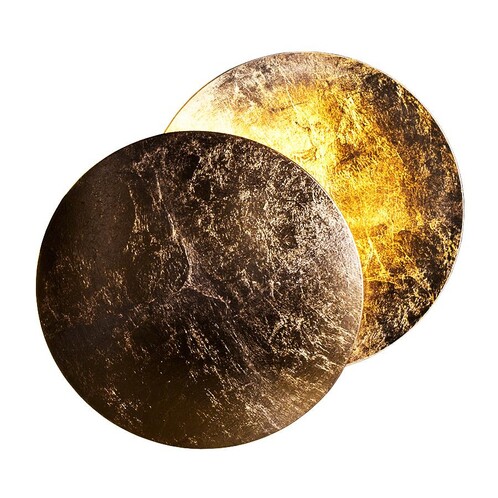 Lederam W 25 LED Wall Lamp
gold/metal base white H2.5cm x Ø7cm/low 9cm/2x disc Ø25cm/2700K/1590lm/CRI80
6 in stock
Product description
The Lederam W 25 LED Wall Lamp was designed by Enzo Catellani for his eponymous brand Catelliani & Smith.

The Lederam W 25 Wall Lamp has a stylish design consisting of two discs, each with a diameter of 25cm, connected by a swivelling hinge. The practical 'movable feature' allows the position of the outer disc to be changed, altering both the appearance and the light effect of the lamp. The inner pane is mounted on a monochrome frame that is screwed to the wall, making this piece both beautiful and functional. Inside the lamp, a light-emitting LED module is mounted on the inner side of the outer pane of glass, illuminating the inner pane to produce a stunning eclipse-style lighting effect.
Product details
| | |
| --- | --- |
| Item ID | 151017 |
| Brand | Catellani & Smith |
| Designer | Enzo Catellani |
| Collection | Catellani & Smith Lederam |
Colors
metal base white H2.5cm x Ø7cm: gold, copper, white/gold, white/copper | metal base black H2.5cm x Ø7cm: black/copper, black/gold
Materials
metal, aluminium
Dimensions
Depth: 9cm
Diameter: 25cm
Diameter Diffuser: 25cm
Diameter Base: 7cm

Illuminant
1x LED-Unit FIX/17W - energy efficency grade A++ - included

Energy class
This luminaire is compatible with bulbs of the energy classes: A++
The luminaire is sold with a bulb of the energy class: A++
This luminaire contains built-in LED lamps. The LED lamps cannot be changed in the luminaire.

6 designs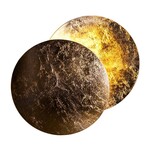 gold/metal base white H2.5cm x Ø7cm/low 9cm/2x disc Ø25cm/2700K/1590lm/CRI80
6 in stock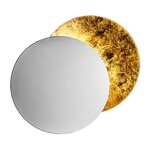 white/gold/metal base white H2.5cm x Ø7cm/low 9cm/2x disc Ø25cm/2700K/1590lm/CRI80
in Stock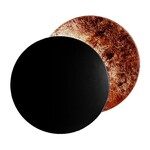 black/copper/metal base black H2.5cm x Ø7cm/low 9cm/2x disc Ø25cm/2700K/1590lm/CRI80
1 in stock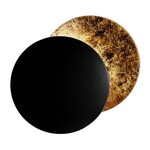 black/gold/metal base black H2.5cm x Ø7cm/low 9cm/2x disc Ø25cm/2700K/1590lm/CRI80
6 in stock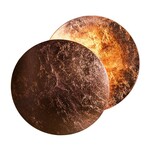 copper/metal base white H2.5cm x Ø7cm/low 9cm/2x disc Ø25cm/2700K/1590lm/CRI80
5 weeks
white/copper/metal base white H2.5cm x Ø7cm/low 9cm/2x disc Ø25cm/2700K/1590lm/CRI80
5 weeks
The current status is available online at https://www.ambientedirect.com/en/151017
© 2021 Ambiente Direct GmbH - Stand vom 18.10.2021