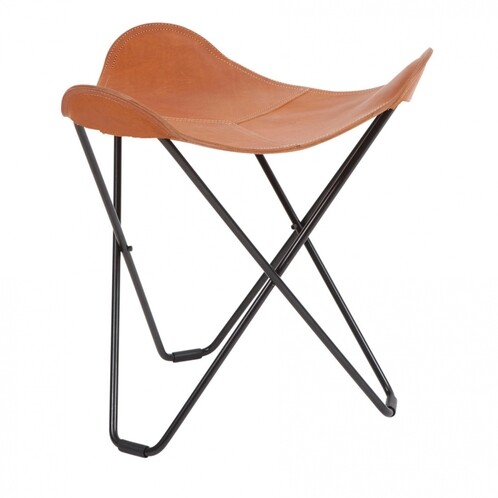 Flying Goose Stool
middle brown / Polo 66 / frame black
in Stock
Product description
The Flying Goose Stool is a reworking of an archive classic by Lars Kjerstadius for the Swedish label cuero.

cuero is a place where nature meets art with the philosophy that in a technical world, humans will always crave contact with nature. The Butterfly Chair was originally designed in Argentina in 1938 by the famous trio of Antonio Bonet, Juan Kurchan and Jorge Ferrari. They saw it as a fusion between craft and industry. Lars Kjerstadius has brought this 1930's classic into the 21st-century.

The Flying Goose Stool is one of the results of his dedication and is an exciting complement to the reworked Butterfly Chair. Its flowing shape is reminiscent of a butterfly's wings, while its moulded seat is invitingly comfortable to use. The seat of the stool is hand finished using the finest vegetable tanned Italian leather and the three interlocking tripod legs are made from 12mm tubes of Swedish steel. This timeless classic is not only pleasing to look at but provides the perfect occasional seating in homes and public spaces. The Flying Goose Stool has a diameter of 50cm and is 55cm high. It is finished with floor protectors.
Product details
| | |
| --- | --- |
| Item ID | 294002 |
| Brand | cuero |
| Designer | Antonio Bonet, Juan Kurchan |
| Collection | cuero Mariposa Butterfly Chair |
| | |
| --- | --- |
| Colors | Black 64: black | Chocolate 67: dark brown | Polo 66: middle brown | icelandic lambskin Shorn Black: black | icelandic lambskin Shorn White: white | icelandic lambskin Wild White: white | icelandic lambskin Wild Black: black |
| Materials | stainless steel, leather |
| Dimensions | Height: 36cm |
7 designs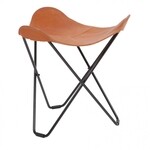 middle brown / Polo 66 / frame black
in Stock

black / Black 64 / frame black
5 in stock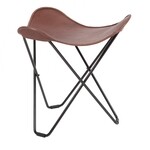 dark brown / Chocolate 67 / frame black
2 in stock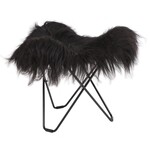 black / icelandic lambskin Wild Black / frame black
4 weeks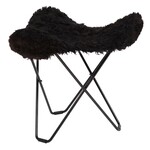 black / icelandic lambskin Shorn Black / frame black
4 weeks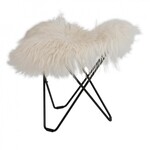 white / icelandic lambskin Wild White / frame black
4 weeks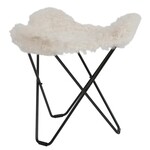 white / icelandic lambskin Shorn White / frame black
4 weeks
Matching accessories

cuero
Pampa Mariposa Butterfly Chair
dark brown / Polo 66 / WxHxD 87x92x86cm / frame black
in Stock

cuero
Pampa Mariposa Butterfly Chair
brown / Crude Nature 70 / WxHxD 87x92x86cm / frame black
2 in stock

cuero
Pampa Mariposa Butterfly Chair
dark brown / Chocolate 67 / WxHxD 87x92x86cm / frame black
4 in stock

cuero
Pampa Mariposa Butterfly Chair
dark brown / Montana 65 / WxHxD 87x92x86cm / frame black
in Stock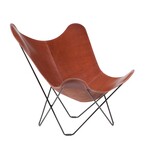 cuero
Pampa Mariposa Butterfly Chair
dark brown / Oak 71 / WxHxD 87x92x86cm / frame black
in Stock

cuero
Pampa Mariposa Butterfly Chair
black / Black 64 / WxHxD 87x92x86cm / frame black
5 in stock

cuero
Pampa Mariposa Butterfly Chair
dark brown / Polo 66 / WxHxD 87x92x86cm / frame chrome matt
in Stock

cuero
Pampa Mariposa Butterfly Chair
black / Black 64 / WxHxD 87x92x86cm / frame chrome matt
5 weeks

cuero
Pampa Mariposa Butterfly Chair
dark brown / Chocolate 67 / WxHxD 87x92x86cm / frame chrome matt
1 in stock
The current status is available online at https://www.ambientedirect.com/en/294002
© 2021 Ambiente Direct GmbH - Stand vom 26.07.2021